Highest weld quality: process visualization and process stability provide for product safety and repeatability. Small footprint for easy integration into production lines. Ultrasonic metal welding is the ideal solution for maximum quality in production. For our customers, we assume the role of both consultants and application problem solvers with regard to the ultrasonic joining of nonferrous metals.

In addition to leading-technology products, we provide excellent, in-depth application services for solving welding tasks, particularly taking into account the qualitative and economic aspects.
Application Engineering
Successful ultrasonic solutions
Lithium-ion batteries (LIB)
A typical lithium-ion battery (LIB) uses copper foil as the anode and aluminum as the cathode. The welding of typically 20 to 120 foils to each other requires a high level of joining technology with long time process reliability. Burrs or cracks have to be avoided completely.
As more and more products contain rechargeable lithium-ion batteries (LIB), the battery manufacturers are aiming for ultrasonic welding as reliable battery assembly method. The specifications of the process demand a strong electric contact and no particles on the sealing film of the tab.
Pouch cell and soft cases
Ultrasonic welding offers an alternative to heat sealing the flexible LIB soft cases. The risk of damaging the cells is minimized by shorter cycle times and the use of cold ultrasonic welding tools as an alternative to hot sealing bars.
Rapid development of new energy storage systems increases the necessity for robust framework in modern battery systems. State-of-the-art busbars transfer up to 1000 V and require a minimal contact resistance in order to prevent hot spot. CUSTOMER STORY: CUSTOMCELLS®
Process stability in welding of battery cells with ultrasonics
As one of the world's leading developers of customer-specific lithium-ion battery cells, CUSTOMCELLS® pursues the lowest possible reject rate in battery production with maximum process reliability. For the welding of its applications, the development and production company relies on ultrasonic technology in one of their production lines. The ultrasonic welding systems from Herrmann Ultraschall used there minimized the reject rate and optimized production efficiency.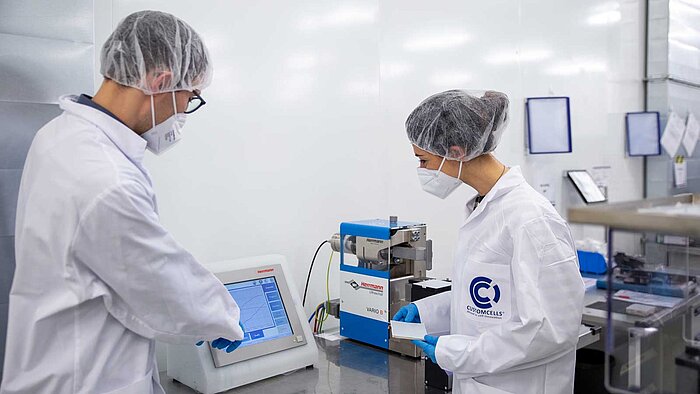 EBA
Building a European battery industry

This is the joint mission from EBA , Herrmann, a growing group of committed companies, institutes and universities to establish a complete domestic battery value chain. We are proud to be a certified member!
Hermann is adding ultrasonic expertise to this European Union program. With our spot welder HiS Vario B, we are able to provide sustainable welding results for the cell assembly: anode and cathode pre-welding, tab main welding and ultrasonic pouch sealing.