60 years of ultrasonic excitement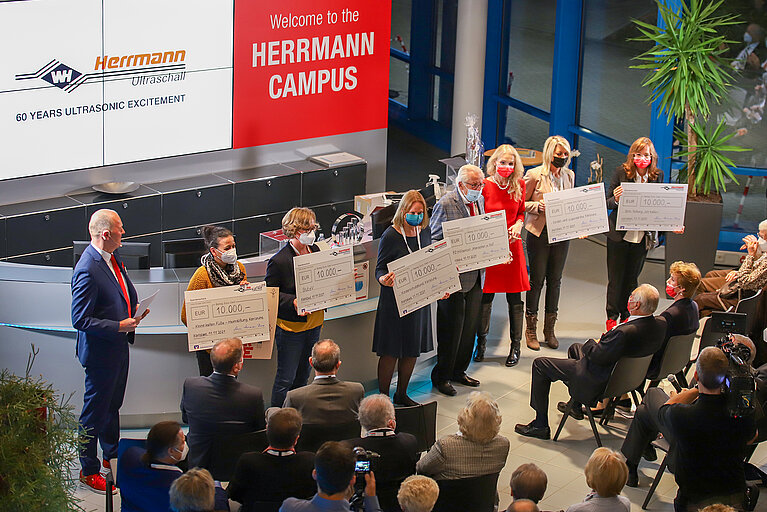 Anniversary: Herrmann says thank-you with a donation
A global company with strong roots in the region: this is what Herrmann has developed into over the past six decades. To celebrate its 60th anniversary, the family company is donating to six organizations that help people locally.
"The anniversary is a nice occasion to say thank you," says CEO Thomas Herrmann. "We have made it our mission to build strong connections with all the people we come into contact with." This, he said, is also expressed in the company's written mission statement: BONDING - MORE THAN MATERIALS.
In order to strengthen and celebrate these connections, the Karlsbad-based family business held a small anniversary event. The central point of the program was the presentation of checks to six selected organizations that make a difference locally. They will receive a total of € 60,000 from the entrepreneurial family as a thank you to the region and the people in it. € 10,000 each will go to:
Local relief campaign of the newspaper Pforzheimer Zeitung PZ: "Menschen in Not" (People in Need), Pforzheim
Local relief campaign of the newspaper Badische Neueste Nachrichten, the BNN foundation "We help", Karlsruhe
Kinder- und Jugendarche Karlsruhe for the youth
"No cold feet" – a youth and young adult relief institution of the Heimstiftung Karlsruhe
Child protection initiative "Kinderschutzbund Karlsruhe"
Blut Blut.eV Weingarten (near Karlsruhe) for stem cell typification
The company also takes up a special cause, namely the search for a stem cell donor for Fredy Pfeiffer from Karlsbad-Auerbach, who is suffering from acute leukemia. In addition to financial support, appointments for typification are being offered at the company for all employees in cooperation with the organization Blut.eV.
At the anniversary celebration, the company also provided insights into its eventful history. Three ideas helped founder Walter Herrmann to industrialize the young technology of ultrasonic welding: A robust and reliable ultrasonic generator, a screen to make the process visible, and sound insulation for the welding applications that caused unpleasant whistling noises. Today, he himself can hardly believe what has become of the small company he founded in 1961 with no money and no telephone, but with a lot of enthusiasm. At the Karlsbad site, there are now 500 employees; worldwide, more than 600 with locations in 20 countries.
Walter Herrmann was always the technical pioneer who kept on inventing, while his son Thomas realized early on that he had to internationalize the company and expand it as an attractive employer for Millennials. He has succeeded in both: Since he took over in 2007, both the number of employees and sales have quadrupled. Just recently, Thomas Herrmann received the prestigious "Entrepreneur Of The Year" business award in the Innovation category from Ernst & Young (EY) for the technical advances, but also for an innovative and value-oriented corporate and HR policy.