A clear focus on global growth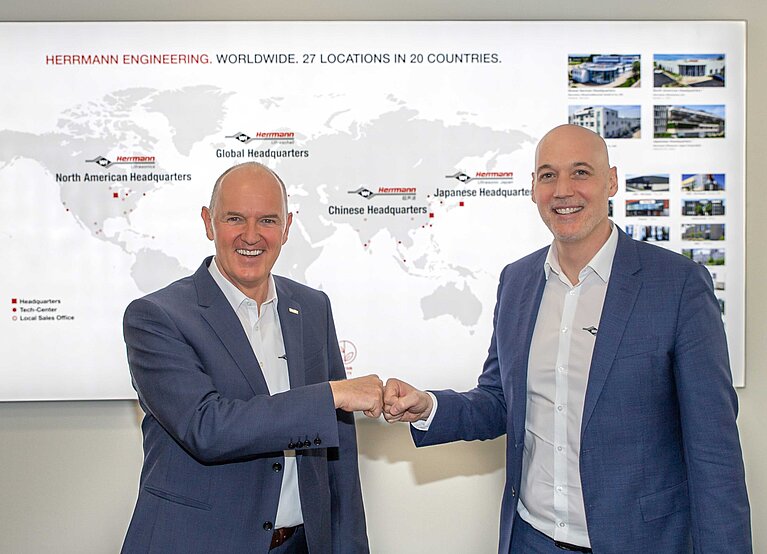 Herrmann appoints André Deponte as Head of International Headquarters
Herrmann Ultraschalltechnik GmbH & Co. KG is optimizing its global structures, and has made André Deponte the new head of international headquarters. Deponte is to oversee closer global collaboration to ensure a standard customer experience around the world.
The post has been created primarily in response to the increasing importance of global customers and the company's corresponding growth on international markets. To step up strategic support for the three head offices in the USA, China, and Japan, the CEO Thomas Herrmann is handing over their management to André Deponte with effect from April 1. Deponte's role is to coordinate the sites more closely to leverage resources, standardize processes, and thus secure international growth.
Herrmann is also seeking to strengthen bonding within the Group through greater exchange. The aim is to develop a global Herrmann culture over the next few years with shared values and shared objectives.
"There is only one Why for us and that is 'bonding – more than materials'". And we want this same commitment to excite customers at all our sites globally," explains André Deponte.
The qualified mechatronics engineer and experienced sales manager joined Herrmann four years ago. To date, he has been instrumental in building up the global METALS business unit and headed development of ultrasonic welding solutions for lithium-ion batteries, cable harnesses, power rails, and terminals. He is to continue as the global head of sales alongside his new role. Michael Leipold, who already manages the PLASTICS business unit, is taking over André Deponte's duties as METALS global business unit director.
Three questions for André Deponte, Head of International Headquarters
1. What goals have you set yourself in your new role?
André Deponte: The most important goal is once again "Bonding – more than materials". We don't just want to bond materials, we also want stronger bonds between us all, which will ultimately attract even more customers. That is why we are seeking to establish standard processes in our departments, and achieve a shared understanding and common objectives to become a globally networked Herrmann family. This means building strong links between the various headquarters, and this is where I see my role as a bridge-builder and communicator.
2. What will your first steps be?
The most important thing initially will be networking with the headquarters. I traveled to the US in early March, taking part in the Culture Journey camps that we run all over the world to share our Herrmann culture with staff.
Trips to China and Japan are next on the agenda. The first thing is always to get to know colleagues better and to listen to what they have to say. What are the processes? What are we doing now, and where do differences still remain? How can we achieve a more standardized approach? Step by step, this will bring us closer together and drive globalization.
3. What do you see as the most exciting aspect of your new role?
I am most looking forward to global bonding, for ultimately, everything centers on interpersonal relationships. We have so many good ideas and so much energy all over the world. We need to harness those ideas and that energy together. How? By getting to know each other better and creating a firm basis of trust so that we can progress together as a company. The task of turning the global Herrmann team into one cohesive unit and inspiring customers around the world is hugely exciting.