A machine put to the test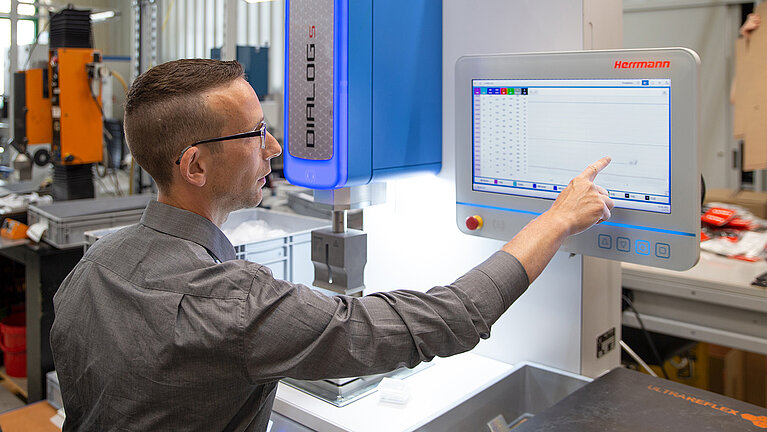 Final test of the new HiQ generation at the customer's site successful
Having the chance to be involved in the development of an ultrasonic welding machine: for Norbert Ennemoser from Ultra Reflex GmbH, Germany, this wish has come true. He was able to put the new HiQ machine generation from Herrmann Ultraschall through its paces for eight weeks as part of a field test. A collaboration that generated a lot of excitement on both sides.
One thing is certain: he knows ultrasonic welding. Norbert Ennemoser has been using the joining technology for more than 15 years, and his employer for more than twice as long. Reflectors of various sizes and materials are welded reliably, energy-efficiently and tightly at Ultra Reflex GmbH. This experience with the welding machines and the technology they contain made the company the perfect candidate to test the next HiQ machine generation.
Many applications available for testing
There was plenty of opportunity to test the machine: Ultra Reflex has up to 200 different applications in its repertoire, and Norbert Ennemoser wanted to test as many of them as possible on his new HiQ.
During these trials the expert often came up with valuable ideas that he presented to Herrmann's development team in regular exchanges. These include, for example, a piece counter that can be divided into individually adjustable batches – feedback that the ultrasonic partner is happy to take on board and implement.
When it comes to welding the many different applications, he is positively surprised by one function in particular: "Changing programs on this machine is completely uncomplicated. It only takes a few clicks and it's done. As a result, there is no longer any risk of mistakes happening during the program change, and we save a lot of time in production."
In addition to the welding program, the sonotrode must also be changed, depending on the application. Thanks to the ACS changing system, this can be done quickly and without tools. Additional safety is provided by the integrated tool change assistant, which guides the user step by step through the change process on the display. This can halve the time previously required for the tool change - especially when RFID-coded tools are used.
Easy operation can be a competitive advantage
Not only is it easy for the Ultra Reflex expert to change tools and programs, but also to create and parameterize new welding programs with the new HiQ: After a short introduction, he was able to create them without any support. "With the new user interface, this is quick and easy. You find your way around intuitively," Norbert Ennemoser explains to us.
The simplified operation of the machine is what he likes the most. It not only helps when working with the machine, but also shortens the training phase. New employees do not have to be trained for a long time, but can start production immediately after brief explanations. "A great advantage in times of a shortage of skilled workers," the process owner is certain.
A clear conclusion after eight weeks
Norbert Ennemoser's judgment after an intensive trial period? "I am completely satisfied with the new HiQ. Herrmann Ultraschall has really come up with something quite outstanding with the many functions!" is his conclusion. As a critic and tester of the new welding machine, he himself has contributed his part to this development. Because this contribution should not go without thanks, he received a trophy in the shape of a sonotrode at the end of the test phase.